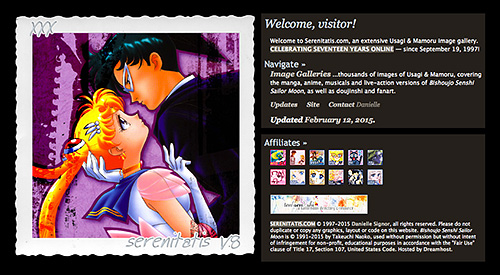 My oldest website, started September 19, 1997. Enormous image gallery dedicated to Usagi and Mamoru, from Bishoujo Senshi Sailor Moon.
After almost eighteen (!!) years online, I am retiring Serenitatis.com as of June 15, 2015. I have several reasons for doing so, but a lot of it boils down to time. I have very little time for it.
Also, eighteen years is a long time to run a website.
Serenitatis was born out of frustration, filling a gap (in my eyes) in the Sailor Moon image gallery niche. It was something I felt I needed to make at the time. I still like the series, and I still like the characters. But things have changed. The Internet is quite different than it was in 1997.
I'm different. I don't feel the same about Serenitatis as I used to. My drive to improve it is gone. That time has passed. And though I'm usually all for archiving and preserving things, there's something to be said for closure.
It's time to turn out the lights.
If you're a visitor of Serenitatis — bonus points if you remember it as The Gallery of the Silver Millennium — THANK YOU. Thank you for visiting my website. I'm glad you liked it. I appreciate you all, very much.
To my fellow fansite owners, all the great people I've met over the years — EIGHTEEN YEARS, can you believe it?? — I wish you the very best. Special hugs to Athena and Buruma, who bug me on Twitter and try to talk sense into me (or distract me with shiny objects and cute animals. As good friends should.)
A shoutout to my terrific affiliates: Ai no Senshi, Isshou ni, Manga Style, MoonKitty.net, MoonPrincess.com, Moon Sticks, The Sailor Senshi Page (a site older than mine!!), SailorWar.net, Three-Lights.net, and Usagi and Mamoru's Universe. Some of my favorite fansites are in this list.
Thanks for reading! Here's my Instagram if you want to say hi.*
*Please don't email asking me to put the site back up. Also, please don't ask for a ZIP of all the images. Everything I had is out there — probably at much better resolution!